Save energy & money
Energy Efficiency
Spend less on cooling your home and protect the planet by reducing carbon emissions. The air conditioner has received a "5 ticks" rating* for its excellent energy efficiency. Digital Inverter technology and the indoor unit's triangular architecture ensure powerful cooling using less energy.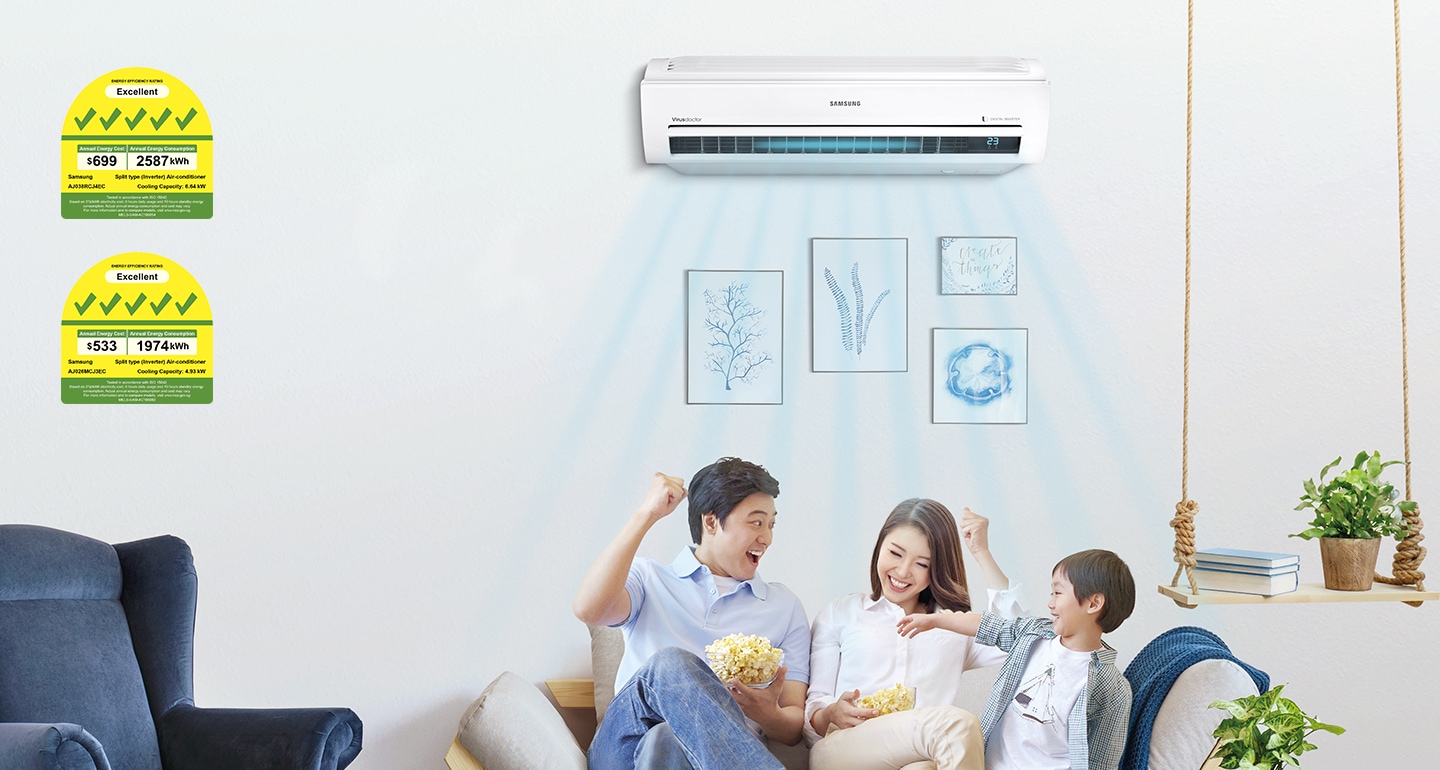 * Using the Singapore National Environment Agency's energy efficiency rating system.

Control anytime, anywhere
Smart Wi-Fi®
Control your air conditioner when you're on the go. It has built-in smart Wi-Fi®, so you can remotely control it anytime and anywhere with the Samsung SmartThings App* on up to 5 smart devices. For example, you can turn it on or off, adjust the temperature and speed, schedule its operation or activate Virus Doctor.


* Available on Android (4.4 and above) & iOS (10.2 and above) devices. A Wi-Fi
®
connection is required. Data subscription and other charges may apply. Usage may be subject to third party service provider agreements. A compatible router with a strong Wi-Fi
®
signal is required to connect the device to the Samsung SmartThings App.
Quiet & comfortable
Quiet Operation
Enjoy comfortable cooling without disturbing the quiet of your home. The air conditioner's meticulous design means it is almost whisper quiet, producing just 19dB* of sound, which is half the average noise level of a library (40dB). So it is the ideal choice for anywhere you relax, concentrate or are sensitive to noise.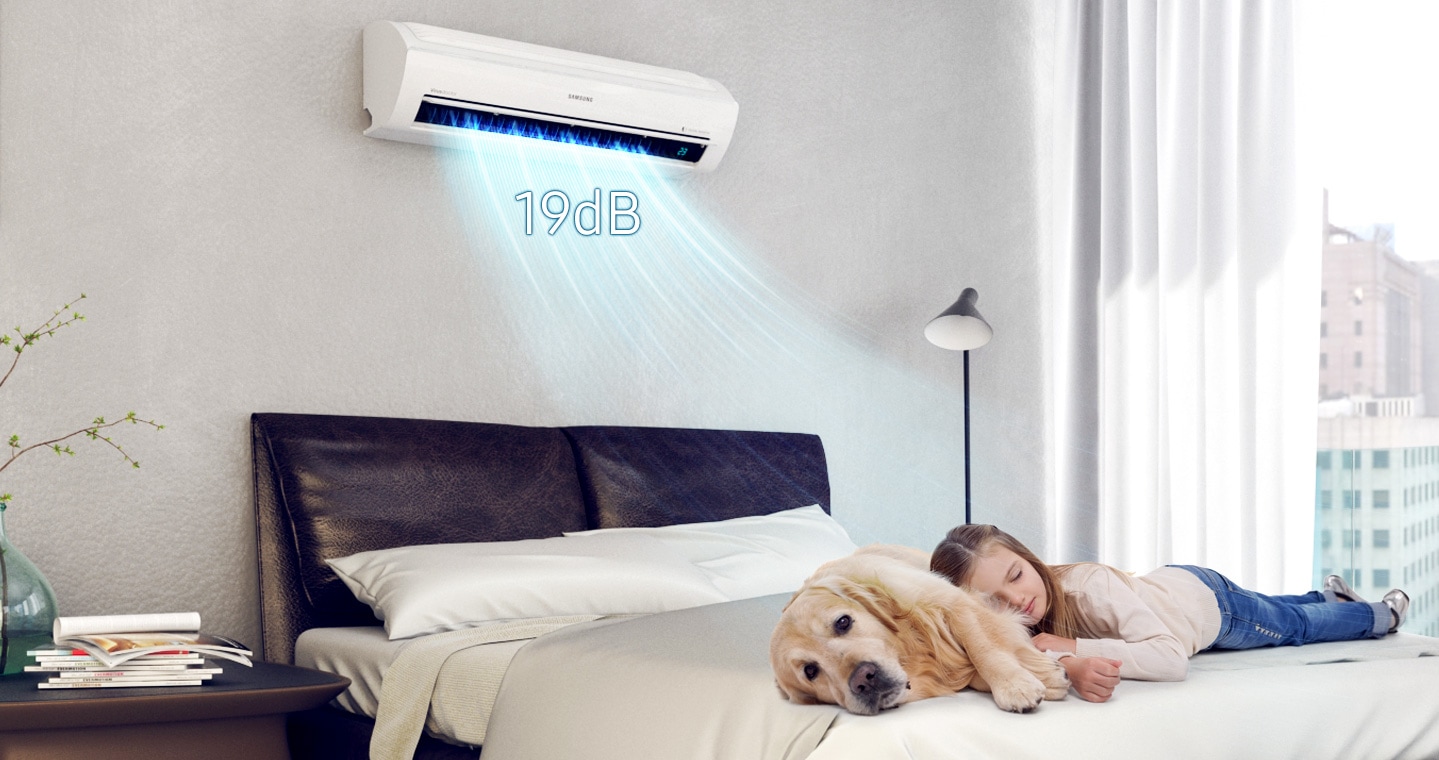 * Only applicable for AJ009RBADEC & AJ012RBADEC models operating in Quiet mode.


Eliminates harmful contaminants*
Virus Doctor
Come home to clean and healthy fresh air by simply activating the Virus Doctor feature, an amazing air purifying technology which works like an ionizer. Easy clean 3 care filter is coated with anti-bacterial, anti-viral and anti-allergen material. It traps the smallest microsopic dust particles and viruses*. It also reduces allergens in the atmosphere so that you can enjoy cleaner indoor air.



* Virus Doctor neutralises up to 99% of harmful contaminants in the air. Tested in Kitasato Environmental Science Center (Japan) & Yonsei Univ. (Korea) / Korea test lab (FITI/KEMTI) and Japan test lab (ITEA). Effective on 4 viruses, including Subtype H1N1, and certain bacteria. Data has been measured under specific testing conditions and results may vary based on environmental factors.


Easy to install
Low Height
Save time, effort and money with an easy to install, low height design. Samsung's 5 Ticks Multi split air conditioners with built-in Smart Wi-Fi
®
are designed with a low height of 261mm* for easy replacement of older models with similar height. With the unique triangle architecture design, a minimum installation height of only 40mm, from the top of the indoor unit to the ceiling is required. The system also allows easy replacement by using existing pipework** with minimum work required.
* Only applicable for AJ009RBADEC/AJ012RBADEC & AJ018RBADEC models.
** Check that there are no leaks in the existing pipes and ensure that they are properly flushed, purged and vacuumed before they are connected.

Premium After Sales Care
The air conditioner also comes with premium after sales care service* to provide peace of mind to users.
Same day service will be provided for any service request received before 10am (Monday – Friday) excluding public holidays(ph) and eve of ph. All other service requests received after 10am (Monday-Friday) and on weekends, ph and eve of ph will be attended to on the next working day.
* Applicable to 5 Ticks Multi Split Inverter with Built-In Smart Wi-Fi®

 

that is within 1st year general warranty period and not applicable for all project businesses.
Specifications
Cooling [Btu/h]

24,200 Btu/h
Net Dimensions (WxHxD) (mm)1063×317×294 mm


Sorry, there are no products in this collection